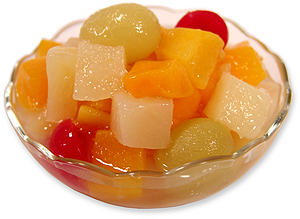 Fruits for canning or freezing are harvested at the proper stage of ripeness so that a good texture and flavor may be preserved. Much of the processing is done by automated equipment and the fruits are handled little by plant workers. Present-day practices help assure us of wholesome, sanitary products with good flavor and quality.
The initial work in preparing canned or frozen fruits is similar. At the processing plant, the fresh fruits are usually sorted into sizes by machine and washed in continuously circulating water or under sprays of water. Some fruits, such as apples, pears, and pineapple, are mechanically peeled and cored.
Next, they are moved on conveyor belts to plant workers who do any additional peeling or cutting necessary. Pits and seeds are removed by automatic equipment, and the fruits are also prepared in the various styles (halves, slices, or pieces) by machine. Before the fruits are canned or frozen, plant workers remove any undesirable portions.
Canned Fruits

Cans or glass jars are filled with fruit by semi-automatic machines. Next, the containers are moved to machines that fill them with the correct amount of syrup or liquid and then to equipment that automatically seals them. The sealed containers are cooked under carefully controlled conditions of time and temperature to assure that the products will keep without refrigeration. After the containers are cooled, they are stored in cool, dry, well-ventilated warehouses until they are shipped to market.
Frozen Fruits

Frozen fruits are most often packed with dry sugar or syrup. After the initial preparation, packages are filled with fruit by semi-automatic equipment, sugar or syrup is added, and the containers are automatically sealed. The packaged fruit is then quickly frozen in special low-temperature chambers and stored at temperatures of 0 °F. or lower.