Milk and milk components have come to play an increasingly important part in modern nutrition. The food industry requires components that will live up to the standards it demands of the finished products from both a nutritional and a technological point of view. These are not only standard products, but also special products tailored to the customer's individual needs.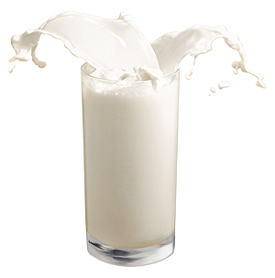 Milk is not produced everywhere in sufficient quantities to ensure its availability throughout the region and at all seasons of the year. In some places there is far more milk than local or regional markets need. Milk production is subject to typical seasonal and cyclical fluctuations. Times of surplus are followed by shortages, and vice versa, even in Europe.
The consumer markets for milk and fresh dairy products require a constant supply of milk. This involves an interregional balancing process in which supplies surplus to local or regional needs are used to meet the demand from urban areas with many consumers or from areas where unfavourable production conditions make it impossible to produce enough milk.
The milk that is surplus to these requirements is processed to yield storable products.
For these products, such as butter, hard and semi-hard cheese, milk powder and special products, this results in even greater fluctuations in the quantities of milk available for their production, and such fluctuations have to be smoothed out by stockpiling. Furthermore, there are natural variations in the composition of milk, and these differences in composition are reflected in the quality of the products made from milk.
The distribution of supply and demand is unbalanced on a global scale as well. But milk is held in growing regard around the world and offers substantial added value. Following considerable successes in the fight against hunger in the late 20th century, increasingly large sections of the world's population in the 21st century want more than simply enough to eat: even the poorer groups are looking for balance and enjoyment in their daily diet with tasty, natural and healthy food. Milk and dairy products, as a basic food and a source of high-grade components, are ideal for this purpose.