Spice the enjoyment of Life and it can be medicine...
According to the International Organization For Standardisation (ISO); The term 'spices and condiments' applies to such natural plant or vegetable products or mixtures thereof, in whole or ground form, as are used for imparting flavour, aroma and piquancy to and for seasoning of foods".
There are over 80 spices grown in different parts of the world.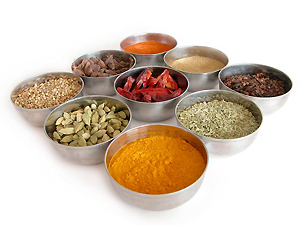 Spices are well-known as appetizers and are considered essential in the culinary art all over the world. They add tang and flavour to otherwise insipid foods. Some of them also possess antioxidant properties, while others are used as preservatives in some foods like pickles and chutneys, etc.
Major spices of export are pepper, cumin, cardamom, ginger, turmeric and chillies. Other minor spices include ajowan, aniseed, celery seed, caraway, fennel, fenugreek, coriander, garlic, onion, saffron, vanilla etc. Among the spices exported, pepper has the leading position in terms of both quantity and value realised. The 'Alleppey Green' Cardamom is considered the best grade available in the world.
Some spices also possess strong anti-microbial and antibiotic activities. Many of them possess medicinal properties and have a profound effect on human health, since they effect many functional processes. For instance, spices intensify salivary flow. They cleanse the oral cavity from food adhesion and bacteria, they help to check, infection and caries and protect the mucous membrane. Spices act as a stimulates to the digestive system and help digestion in many ways. Spices possibly activate the adreno-cortical function and fortify resistance and physical capacity. Stroke frequency , and blood pressure can be diminished or augmented by means of spices.
Spices can improve the palatability and the appeal of dull diets or spoiled food. Piquant flavors stimulate salivation and promote digestion. Pungent spices can cause sweating, which may even cause a cooling sensation in tropical climates; on the other hand they can add a sense of inner warmth when present in cooked foods used in cold climates. Local and inexpensive herbs and flavors, such as garlic, onion and horseradish, sufficed for the poorer people of old Europe, but influential, rich hosts would wish to impress or politically intimidate their guests with the liberal use of rare exotic spices. These expensive imports could be added in large amounts and in complex mixtures to each course and to accompanying alcoholic beverages to provide a gustatory statement about the wealth, power and initiative of the host. Thus, spices served to make a political statement when a baronial lord invited possible rivals to an expensive display of profligacy at a sumptuous banquet.
We indent spices from countries of origin which have the highest recommendations for premium quality. Often, we offer several selections of origin so that you can sample the subtle variations and decide upon your own personal preference.